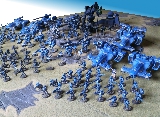 Hey guys!
The horde of smurf-colored communist fish people returns!
After a small game with my friend and since I'd recently painted a couple devilfish for my army, I thought I'd get all of my models out and take a few pictures of the whole Tau army ...so here they are!
As a bonus here is a pic of the terrain I built for the tau'va forum contest (seen in previous pictures).
Hope you enjoyed!
And until next time, happy hobbying!